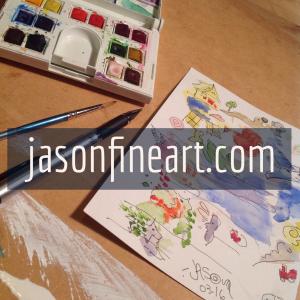 Jason J Nicholas is proud to announce the launch of his new online fine art gallery, www.jasonfineart.com, where he will be featuring selections of his sketches, watercolors, and photography available for purchase as prints, cards, posters, canvas bags, and more.

Jason invites you to share in his journey of viewing the world in new and inspiring ways through my artwork and photographs.
"I truly believe that our imaginations are our greatest gift. My goals is to be an 'ink-spirational' mentor and inspire others to not only see the world new and positive ways, but to dig inside themselves and break the fear of expressing their own true inner imaginations and creativity. Together let's 'Live Creatively!'"
Be sure to visit www.jasonfineart.com